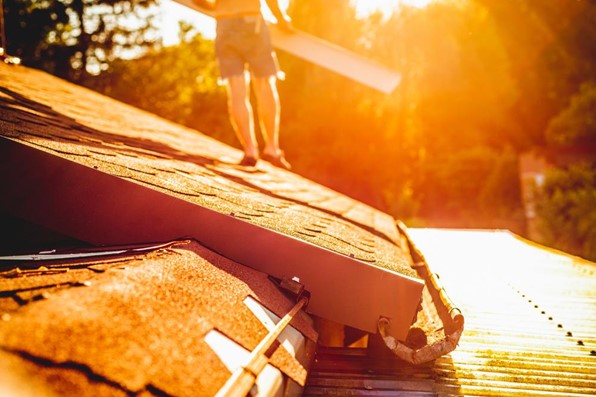 Now is the perfect time to clean out your gutters and make any necessary repairs before inclement weather hits. Here are some easy DIY gutter repair projects to do at home this weekend.
Keep 'em clean
Before you start any gutter repair projects, remove leaves, pine needles and other debris. Most home stores sell gutter scoops that make clearing a breeze; a plumber's snake also works well for clearing large blockages.
Fasten loose gutters
According to Family Handyman, the best way to affix gutters to your house is with fascia hanger brackets. These are stronger than traditional spikes and ferrules, which often work themselves loose.
Install flashing or gutter aprons
Without flashing, water is bound to drip behind your gutter. However, installing flashing or gutter aprons can prevent this. An apron is inserted below the shingles, hangs over the back of the gutter and is fastened with metal screws. If your gutters are hung below drip edges, tuck some flashing under the drip edge and over the top of the gutter. Use DAP's Butyl-Flex Gutter & Flashing Sealant to form a watertight seal and keep everything in place.
Banish annoying drips
Sometimes, that one gutter won't stop dripping. We love this tip from Family Handyman for getting rid of those drips that drive you crazy: Tie a rope to one of your gutter hangers and run it down your downspout. The rope will absorb drops of water, getting rid of that annoying dripping sound. Just be sure to buy a rope made out of synthetic fibers — anything natural will rot.
A rope, however, will restrict the flow of water through your gutters and downspouts. So, if they're prone to blockage by leaves and twigs, a rope may not be the best option.
Make small repairs
There's nothing worse than a heavy tree branch falling in a big storm and taking out a section of your gutter. But don't spend a small fortune replacing all of your gutters — just repair the damaged section using a small section of gutter and a slip joint. When you order a new gutter section, order a box miter at the same time. Cut a three-inch section from it to create a custom slip joint that can be affixed where the current and new gutters meet.
Manage spills
If you live in an area prone to frequent heavy rainstorms, you're bound to experience water spilling over your gutters. Manage this by installing a diverter to redirect water back into the gutter and down the downspout.
Upgrade your downspouts
This one is genius. Like most of us, you're probably tired of moving your downspouts each time you cut the grass (or, you start mowing the lawn and have to pause because you realize you forgot to move them in the first place). Make your life easier by installing a hinge in the elbow of the downspout that runs into your yard. Simply flip it up when you need to mow the lawn, and back down when you're done.
Seal leaks
Your gutters should be properly sealed everywhere they connect with another piece to avoid leaks and drips. It's important to look for a sealant that can handle long periods of submersion in water, as well as being light-resistant. The Dynaflex Ultra Advanced Exterior Sealant uses innovative "weather max technology" that protects against UV damage, mold, mildew and algae buildup. DAP's Ultra Clear Flexible Sealant is 100% waterproof, weatherproof and crack-proof in cold weather. It's ideal for sealing everything from flashing to gutters, drain spouts to ducts. And if you live in a hotter climate, try the High Temp 100% RTV Silicone Sealant, specially designed for extreme high-temperature applications.
Invest in gutter guards
These guards cover your gutters, save for a small crack to let water through, and keep out leaves and other debris. Gutter guards work on nearly every type of gutter and attach to your house with brackets.
One thing is certain: If you're not comfortable on a ladder or making these types of repairs yourself, call a professional. It's worth the time, money and peace of mind knowing that the job will be done right the first time. And when the autumn rains start to fall, you'll rest easy knowing this is one project you were able to cross off your list.