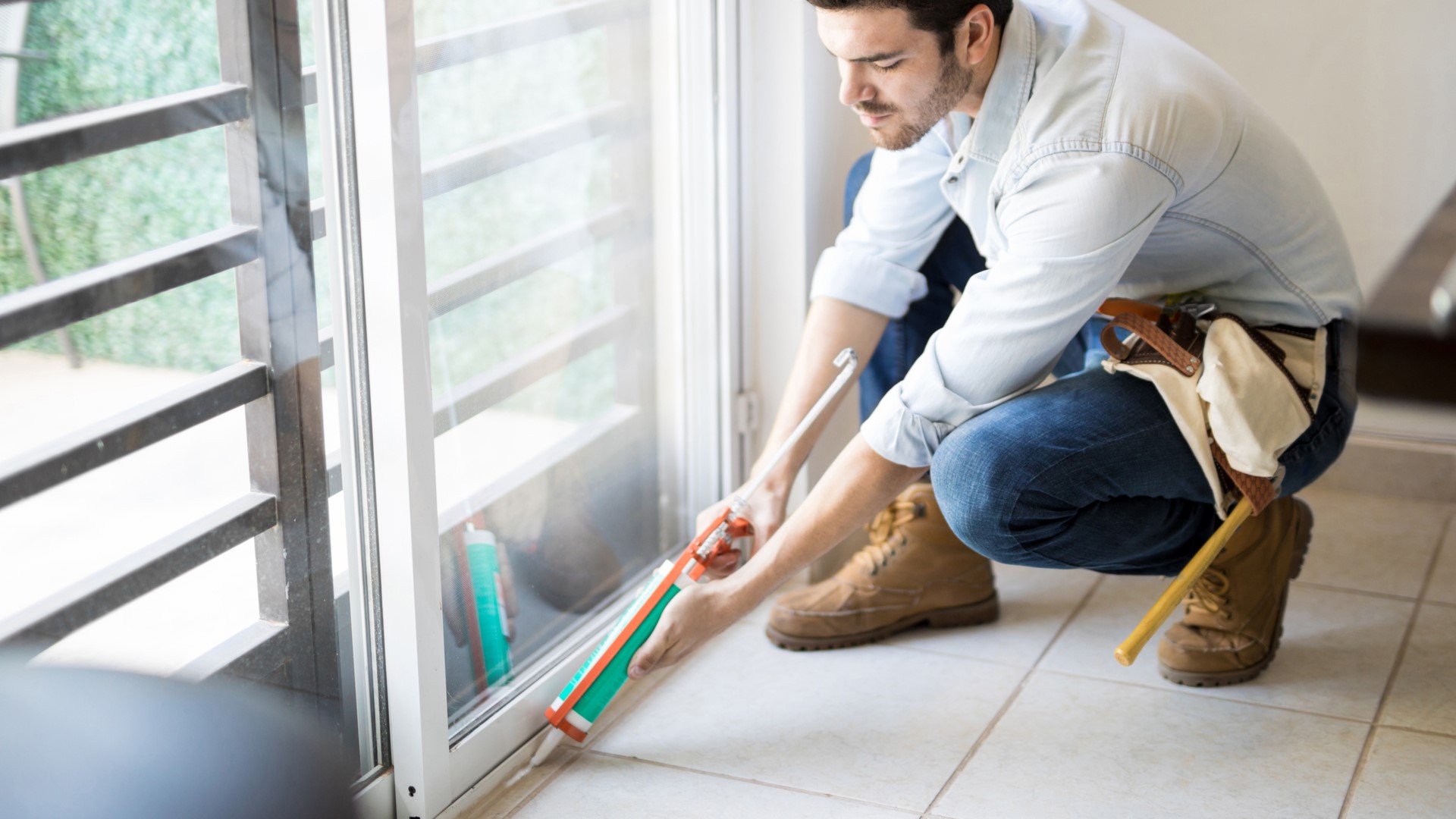 Exposure from intense UV rays can wear down the polymers in seals around your windows and doors, making them drafty and terrible at keeping the temperature in your home consistently comfortable.
Our doors and windows are the first line of defense against weather in our homes. They face constant wear and get regular beatings from wind, extreme temperatures, and intense UV rays. Not to mention wear from constant use. It's no wonder these areas start to breakdown first and require regular maintenance.
Luckily, there are a few inexpensive and easy steps you can take to help weatherproof your home before extreme temperatures hit. The steps below will not only help meet your home energy needs, but they will also work to make it more energy-efficient.
How to Weatherproof Your Home
Check all the windows and make a note of any obvious gaps. This is the biggest area of your home for energy conservation and this one step can greatly reduce your energy costs this year.

Pro tip: Run your hand slowly around the window frame to feel if there are any drafts you can feel. It's better to do this on a windy day, but if the temperature outside is cooler than inside, you will still be able to feel the temperature difference.


Check all exterior doors to ensure all weatherstripping around the door frame is intact. If these are old, worn, or damaged replacing them or using a sealant is the best option.


Use DAP Draft Attack removable weatherstrip sealant to go over all the windows and doors that have drafts. The removable design makes it the go-to sealant for renters.
Fix any major cracks or holes on exterior-facing walls. Big gaps or cracks mean that the interior wall isn't as well insulated against the cold exterior wall. 



Check for any other sneaky places heat can escape. If you live in a home with an attic, this is one of the most notorious places for heat loss and the basement is the toughest space to keep warm. Paying special attention to sealing the entrances to these areas can help to keep warm air where you want it.
When armed with the right tools, weatherproofing for winter is a simple job with lots of benefits for your energy costs. DAP caulks and sealants will help you quickly add an airtight seal to window and door frames.
Products to Use
To effectively weatherize your home and save money this winter, you'll only need a few products on hand. To get started you'll need a window and door sealant and a caulking gun. Simply load the tube into the caulking gun and trim the tip off the tube so that the hole matches the size of the gap you want to fill. DAP Silicone Plus Premium Window & Door also comes in a 2.8 oz tube for smaller jobs and this does not require a caulking gun to use.
Pro tip: Caulks and sealants can come out unevenly due to the pressure on the caulking gun trigger. To create a smooth line, take a wet finger and slowly apply light pressure as you trace over the line of caulk. This will give you a smooth, seamless finish. You can also use painter's tape on either side of the gap to ensure that you get perfectly straight lines.
If there are holes or cracks that need to be repaired, you'll also need a spackling compound, a fiber patch, putty knife, and sandpaper. We have an all-in-one kit that comes with everything you need to patch small areas, making it a perfect starter kit for those who don't patch walls often. If the problem area is much bigger, choose the right spackling compound for your specific project. As dry times and surfaces vary, make sure to read the labels and follow the instructions on the product.
Tackling the attic can be very overwhelming with such a large space. Touch 'n Foam spray foam kits are built to help DIYers master this vital space where warm air escapes. Be sure to form a tight seal around any hatches, soffits, HVAC and other electrical and plumbing holes.
When to Hire a Professional
The sun's UV rays can do some serious damage to the exterior of any building. These intense UV rays actually break down the polymers that make up paint, siding, roof tiles, and many other components of your home. Once these start to break down, your home becomes susceptible to further damage from weather.
Intense weather then leads to roof damage, exterior siding damage, and exterior framework damage. Exterior damage, although it might be small, creates more opportunities for heat to eascape and makes your home less energy-efficient.
Be sure to check for any sun damaged roof tiles, siding, or brickwork and get these assessed by a professional contractor. These are usually big jobs that require some technical knowledge and experience. The professional will be able to tell you whether this is a project that would be best to do before winter or if it's something that can wait another year.
When thinking about weatherproofing your home this year, remember to keep it simple. Weatherizing your home is a simple home maintenance project that everyone should do because there are so many benefits to tackling this little job. With DAP by your side, you can easily increase the comfort level in your home this winter with a weekend project.